Día de los Muertos / Day of the Dead (p. 2)
Back to Olympus C2000Z index
Back to Digital Pictures index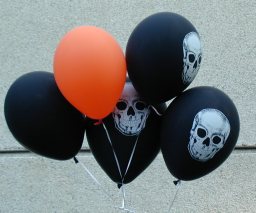 Despite its name, Día de los Muertos is not a depressing or morbid holiday. People go to cemeteries to clean the gravesites of loved ones and reminisce. They build altars in honor of the departed, and put food and flowers (usually the symbolic marigold) on them. Skeleton balloons and candies are very popular. You can find out more about this holiday by following links on the Day of the Dead page.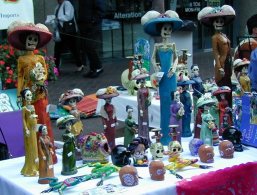 The best display was from a store called el sol, which sells fine mexican arts and crafts imports. [They are located at 418 South Market in San Jose, and their phone number is (408)279-3576.] You may click the picture at the left for a larger view.

The next page shows closeups of some of the smaller items. It will take a while to load; please be patient!