This concert really packs in a crowd; here are two shots: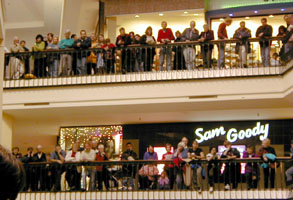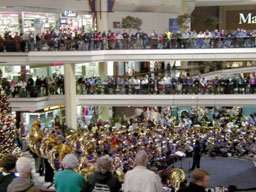 ---
As long as I was at the mall, I had to get the obligatory shot of the tree.

For your information: if you're in San Jose on 19 December 1998, Eastridge Mall has a French Horn Festival from 3 to 4 pm, and "A Saxophone Christmas" from 5 to 6:30 pm. The mall is on Tully Road between Quimby Road and Capitol Expressway.
Technical note: I would have loved to put in more detailed photos of the band, but I discovered that most of the pictures came out blurred. Though the mall's architecture provides the illusion that it is brightly lit, that's not at all the case. I found that camera shake and the longer exposure time without flash made it nearly impossible to get a clear picture. If I used the fill flash to reduce exposure time, the ambient light just couldn't do the job. I suspect that had I used my Olympus D500L I might have gotten some better shots.
Also, you may note that the band's shirts appear blue. See Purple Craze for more details.
Back to the index