First Pictures with the Olympus D-500L
Back to the Olympus D-500L Index
The Pictures
All of these pictures were taken using the camera's "High Quality" setting on 14 March 1998.
I took about eight pictures the first evening I had the camera; the first one of my cat, Rainbow, was taken without a flash; it was too dark, so I enhanced it in Photoshop. At large size it looks horrible, so all you see is this smaller version.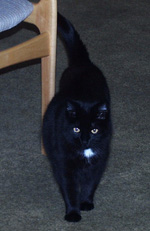 Here's a shot of Tabitha, my other cat; it was taken with the flash. I cannot understand the bluish tint to everything in this picture; the cushion of the chair on the left is actually beige. (Click on the picture to see it in a larger size.)
At this point I had some other difficulties (detailed in my Comment of the Fortnight) which I got ironed out the next afternoon. The following pictures have been resized but have not been otherwise modified.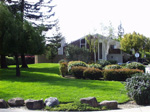 Here's a picture of the quad area near my house.


This is a neighbor's flower box. The larger picture is about 80K bytes.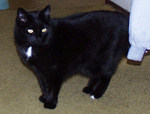 Can you stand another picture of Tabitha? Here it is anyway.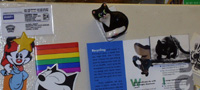 And finally, a picture of the refrigerator magnets (taken without flash); you may wish to compare it with the one from the Kodak DC120 (117K). The large edition of the Olympus picture is 162K.