Fort Collins Pride Celebration
Back to Table of Contents
Forward to Celebration Pictures (1)
Back to Arvada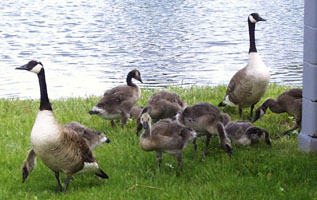 On Sunday, 14 June 1998, I traveled to Fort Collins, Colorado, where I was going to do some work the next two days. At the right is a picture of some of the permanent residents of Rolland Moore Park.
The park was the site of the first Fort Collins Gay Pride Celebration. About 70 to 80 people attended, and I spent a pleasant afternoon chatting and picnicking.
Warning:
The next two pages show pictures the Pride Celebration. It depicts homosexuals and heterosexuals engaged in the act of:
sitting
standing
smiling at the camera
If this isn't a problem for you, proceed to the next page.

If you feel that this is inappropriate for viewing, skip those pages.

If the very idea of seeing such things disgusts you so greatly that you cannot bear to stay at this site, go to a less traumatic part of the web.