Miscellaneous Information
---
Studying foreign languages is my hobby. Here is a list, in descending order of linguistic competence, of languages I have studied. The numbers following a language are rankings for speaking, reading, and writing. These rankings are on a scale of 1 to 10, where 1 is "barely competent" and 10 is "native speaker". Languages marked with an asterisk are ones I have not studied in many years, and would need to re-learn.

You can see some of the language lessons I've written for the web.
Modern Greek - S: 2; R; 1; W; 1

Korean       - S: 2; R; 1; W; 1

Spanish      - S: 8, R: 8, W: 6

Russian      - S: 6, R: 4, W: 3

German       - S: 4, R: 5, W: 1

French       - S: 3, R: 5, W: 1

Hebrew*      - S: 5, R: 4, W: 3

Japanese*    - S: 4, R: 1, W: 1

Dutch*       - S: 2, R: 2, W: 1
I have also studied American Sign Language, and worked as a volunteer at the Sterck School for the Deaf in Newark, Delaware.
I won't claim to be a "Trekkie", nor do I believe that FIAWOL (Fandom Is A Way Of Life) but I do enjoy reading science fiction and watching it on television. I would feel slight pangs of disappointment if I missed an episode of Star Trek: Deep Space 9 or Babylon 5.
Isaac Asimov, Harlan Ellison, and Larry Niven are three of my favorite authors. The best thing I've read lately is Cryptonomicon, by Neal Stephenson, who also wrote the very wonderful books Snow Crash and The Diamond Age.
Athletic Scorekeeping
Several years ago I wrote a program for the Apple II to do scorekeeping for amateur wrestling tournaments. It has since migrated to the IBM PC, and I've used it for various events such as Calfornia's Central Coast Sectional High School Wrestling Tournament (32 competitors per weight class) and the Sierra Nevada Classic Wrestling Tournament in Reno, NV (64 competitors per weight class).

During the spring, I do manual scorekeeping and registration for the Santa Clara Valley Wrestling Association freestyle tournaments.

Click the link to see some pictures I've taken at various high school & junior college tournaments.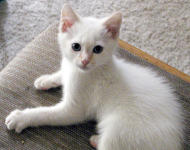 I'm a cat person. My current cat is Marco (named after Marco Polo, the explorer). He is a flame point Siamese mix; white with apricot-colored "points" on his ears and tail. He has his own web page.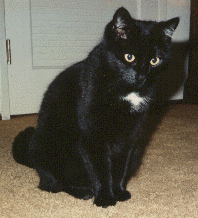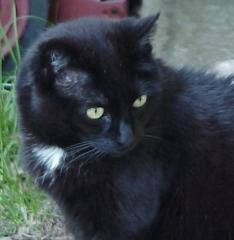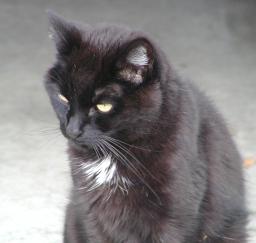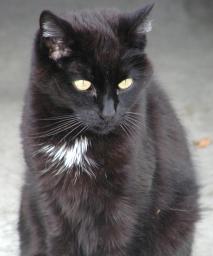 My previous cat was a female domestic shorthair named Tabitha. She was black with white fur on her chest, and just about the most loveable cat I've ever met. I called her my fur-covered home entertainment center. She was also a mighty huntress, keeping the back yard clear of small rodents. The first picture is a "beauty shot" of her in her youth; the second picture is from July 2000, the last two taken on 11 April 2002.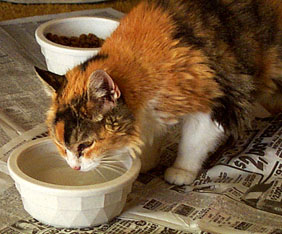 In October 1997 I acquired a female calico longhair named Rainbow. She was over 17 years old, so she didn't get around much, but she sure had a strong voice. She had congestive heart disease and passed on in March of 1998.
I also used to feed a stray cat who had taken up residence at Blackford High School. I did this on weekends until a secretary at the school adopted her. Blackford the cat passed away in early 2000.
I am a member of the Human Rights Campaign and the Billy De Frank Lesbian and Gay Community Center in San Jose.
I also helped out at the San Jose Gay Pride Celebration in 1997.
---