Gilroy Garlic Festival
Back to Digital Pictures index
Page: 1 | 2 | 3 | 4 | 5
These pictures were taken at the 20th Annual Gilroy Garlic Festival Some of them were taken with a Nikon Coolpix 900, others with an Olympus D-500L. The actual file name tells you (in most cases) which is which. Most pictures have been cropped and adjusted in Adobe Photoshop.
When you enter at the Eighth Street entrance to Christmas Hill Park in Gilroy, California, one of the first things you see is Gourmet Alley, where you can get such dishes as:

Pasta with pesto (and garlic)
Garlic Scampi
Garlic Calamari
Garlic Bread
Garlic Pepper Steak Sandwich
Stuffed or Marinated Mushrooms
One of the great attractions is watching the cooks prepare the calamari. When they put the ingredients into the oiled pan and place it above the flame...well, see for yourself what happens.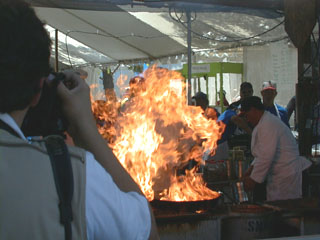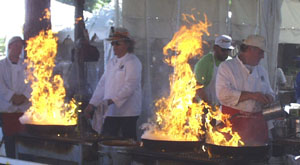 Page: 1 | 2 | 3 | 4 | 5