San Jose Evergreen Area (page 2)
Click a picture to see a larger version. Move the mouse over a picture to see its description.
This was an interesting picture; the vines are on the wall, with the tree casting its shadow.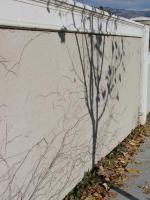 Further down the street, the wall was simply filled with vegetation.