Tapestry in Talent Festival Photos
Back to DC120 index
Page: 1 | 2 | 3 | 4
These pictures were taken at the Tapestry in Talent Festival of the Arts in San Jose, CA
These pages serve two purposes: to show you what the festival was like, and
to talk about the picture-taking experience. All the photos have been cropped and reduced in Adobe Photoshop, and enhanced with the Intellihance plug-in.
At the right is a picture of a juggler in the Family Fun area.
Someone brought a kitten to the festival; it was surveying the art from his shoulders.

---
I have a toothbrush holder from Nag Originals, in Santa Rosa, CA (707)528-6155. Here's a (slightly blurred) photo of a dragon that is an incense burner which puffs smoke.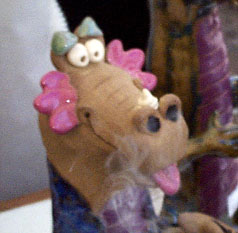 Here's the cat family:

And a group of toothbrush holders: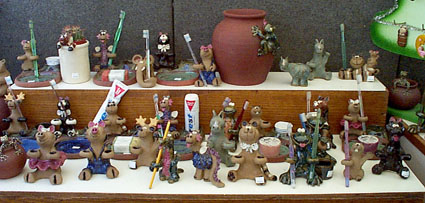 Page: 1 | 2 | 3 | 4