Rainbow the Cat
Back to DC120 index
I have acquired a second cat on 19 September 1997. Rainbow is a spayed female, about 15 years old. When I first got her home, I put her in the bedroom and she headed right under the bed to the back of the room and hid out.
She did come out from under the bed to get a drink: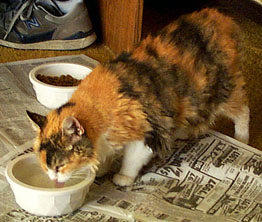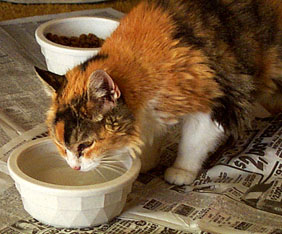 and, of course, to eat and use the litterbox. Even though she'd been an outdoor cat all her life, she figured out the litterbox on the first try (thank goodness).
She's now taken to parading around the bedroom; I got these pictures of her on the bed: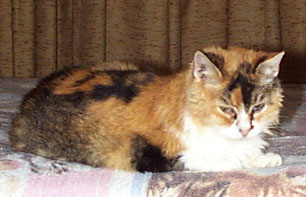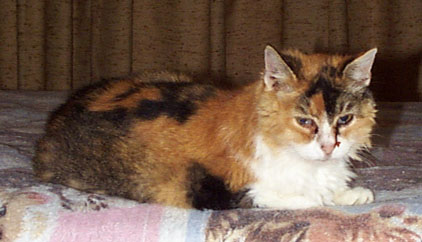 At this point (23 Sep 1997) she and Tabitha, the cat I've owned for several years, have established a Kitty Demilitarized Zone. Tabitha goes into the bedroom a bit, sniffs around, hisses, and runs away. Rainbow comes to the bedroom door, looks around, and retreats under the bed.
Update on 26 Feb 1998: Rainbow now has taken possession of the bedroom. She does come out and roam the living room, sometimes even coming upstairs. She and Tabitha can be within a foot of one another before they hiss at one another. Surprisingly, if Tabitha is on the futon, she doesn't care about Rainbow approaching closely on the floor. Maybe it's the fact that Tabitha has the high moral ground in that situation.
Update on 18 March 1998: Rainbow was not eating for the past week, and she was very lethargic. I took her to the vet; she had congestive heart disease and the outlook was not good. I had her euthanized, and I will miss my little sweetheart very much. She was much better to me than I deserve -- but then aren't all cats that way?