Daruma Festival Photos
Back to DC120 index

Page: 1 | 2 | 3 | 4 | 5

These pictures were taken at the 20th Annual West Valley Japanese-American Citizens League Daruma Festival in San Jose, CA on 16 August 1997. (What's a Daruma?)

These pages serve two purposes: to show you what the festival was like, and
to talk about the picture-taking experience. All the photos have been cropped and reduced in Adobe Photoshop, and enhanced with the Intellihance plug-in.
See also some thoughts about the software that comes with the camera.

The first things that caught my eye were a banner that was attached to one of the booths, and a daruma that appeared to have been made of some fuzzy material.

Here's a view of the hospitality booth.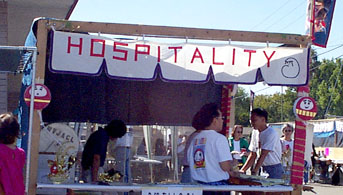 I took a picture of the people in the hospitality booth. They were in deep shadow, but Intellihance was able to bring out detail even though the colors are washed out:
| Before | After |
| --- | --- |
| | |
Page: 1 | 2 | 3 | 4 | 5