Marco's Web Log
26 November 2004
Well, we spoke too soon about the gray cat, who has been named Gigi, short for "Gray Girl." It seems she wasn't able to get along with the other cats in her new home (can you say "steel cage match"?), so she was brought back to us. We're keeping her in the office. It's all quite strange—when we enter, she will yowl at us and hiss at us, but she lets us pet her, does the head bump, rolls over on her back, and does the "happy claws" action; all of this while meowing piteously.
We're going to continue to work with her, and once socialized to humans she will probably make a great only kitty for someone. In the picture below, you can see her absolutely stunning gold eyes.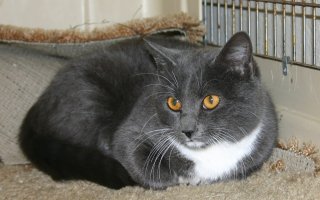 21 November 2004
Here are the latest pictures of the "ramp kitties" living in the bushes on a ramp between two buildings at the college. The all-gray cat shown in the first picture below is a new arrival. Cathy and I have named all the other cats: The gray and white kitten is "Jasper," the calico is "Misha," and the tabby is "Rocket."
In other feral news, we were able to capture the dark gray cat and get her fixed and adopted out in the space of three days. We only got two pictures of her, and this is the better one.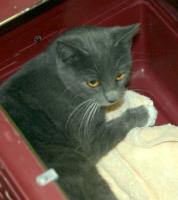 5 November 2004–Fearless' Story
We were able to capture Fearless, the black and white kitten, and get her spayed. She had ear mites, coccidia, and toxoplasmosis, all of which made her a very unhappy girl. After giving her pills (which actually, she was fairly good about) and liquid medicine for a couple of weeks, she got better. She did have intestinal problems, which seem to be better now that she is eating a special non-allergen cat food. Toni and Eliza have taken Fearless home with them, and Fearless is now the proud owner of a human family.
28 October 2004–El Gato Adopted!
Thank you and congratulations to Erin, a student at Evergreen Valley College, who has adopted El Gato. (Or, perhaps, El Gato has adopted her.) Erin reports that El Gato gets along wonderfully well with her dog, which confirms that El Gato is one of the most mellow cats we've ever encountered.
18 October 2004–Marco Returns
By popular demand, a few more pictures of Marco Polo, my cat.
17 October 2004
I went down to the school today to see if I could start to socialize the black and white kitten, whom we have named "Fearless," since it doesn't run away from people like the other ferals do. The experiment was a great success. I put some Bumble Bee® tuna on a paper plate, sat down on a rock, and put the plate between my feet. Fearless came up and started eating. I touched it a couple of times and it backed up. Then I let it start eating in earnest, and was able to pet it. Fearless even let me pet him/her (we think it's female) after it had finished eating. The pictures were taken by Cathy, who was also able to pet Fearless without having any tuna on her hands. When I left, Fearless started meowing and following me. Cathy and I will try to trap Fearless tomorrow and have it neutered. We are both convinced that Fearless can be tamed and will make someone a great pet. Wish us luck.
7 October 2004–El Gato Update
El Gato was wheezing like a broken down steam engine a few days ago, so we took him back to the vet. The vet changed his medicine to Antirobe™, and el gato is much better now; you can't hear him breathing from across the room. He's showing some interest in his cat toys as well. He is still as mellow and loveable as ever. Cathy took him home over the weekend, and he got along well with her golden retriever. El Gato is still looking for a home.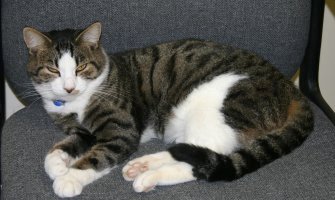 30 September 2004
Two of the cats from the feral colony seem to be warming up to humans, if only slightly. One, the gray and white that we neutered, is still fairly skittish. The black and white kitten appears to be a new arrival, possibly one that has had association with humans before. A couple of days ago I sat down near it and held out my hand; the kitten came over and took a swipe at my hand with its paw. I didn't react, and it did it again; then it wandered off. The next day, as an experiment, I put some tuna fish in my hand, and the kitten came up and ate it out of my hand. I think there may be hope for socializing it.